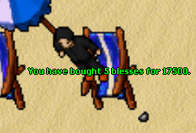 Blessings
Edit
Easiest way to purchase blessings on Hexana is to write !blessing in default chat. This costs 75% more than buying it from individual NPCs. The price scales with level. Obtaining all blessings will prevent any item loss upon death.
Oldschool way
Edit
If you wish to obtain blessings the old way you must visit the following NPCs and ask for a blessing. 
Name
Location
Edala

Suntower

 near Ab'Dendriel, here.

Eremo

Eremo's Isle
Henricus

Thais Jail

, west of the south gate, on Harbour Street, down one floorhere.

Humphrey

Fields of Glory
Kawill

South of the Kazordoon temple whereIsimov lives, past the bats, here.
Norf

White Flower Temple
Pydar

North of Kazordoon temple, past the fire, here.