Asylum City
Edit
Asylum City is the main city on the Asylum Island .
You can travel to Asylum by ship from most major cities. It is a often visited city as Rashid and Fah'Naan (blue djiin) are found here, in addition there are many player created merchants here. The whole city is Non-PvP.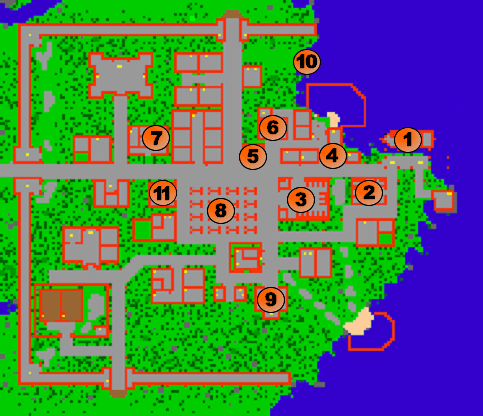 Legend: 
1. Ship
2. Food Shop
3. Depo, Bank, Post office, Rashid
4. Equipment Shop
5. Weapons, armors and ammo
6. Magic shop
7. Blue Djinn shop
8. Market - you will be able to put your Merchant here
9. Temple
10. Captain Pedro - Passage to Olduran , Oxidia Island and Cursed Island
11. Furniture shop
There are 49 houses located in Asylum City rangin from 14 sqm to 1372 sqm. House prices here usually start at 120kk.